A couple of weeks ago TheEye wrote about the extraordinary world of Gerry's Pompeii in West London and recently she found herself in another wonderous environment, this time in suburban Dulwich and Stephen Wright's incredible, fantastical HOUSE OF DREAMS.  If you are someone that likes labels (TheEye hates them) you would call it his homage to outsider art but as far as TheEye is concerned, it is quite simply letting imagination take control without any concerns as to the consequences or where it might lead, to produce surprising results.
House of Dreams is a gem.
Following his instructions, you walk down the street, push the gate and you have arrived – in wonderland. This is a life's project.
After gaining an MA in printed textiles at Manchester University, Stephen worked as both a fashion and textile designer and also a designer of  high-end stationery and knitwear. Although pursuing a successful career, he had dreams and , in collaboration with his former partner Donald Jones, their suburban house soon became home to what he loved and accumulated. It was stuffed with old photographs, dolls, hats, wigs, false teeth, Mexican religious ephemera, whatever caught his eye in markets, second hand shops or abandoned in skips. Random and unquestionably eccentric, but at the same time it all makes sense. Unlike many artists, there was a clear focus to create something of permanence and after the death of his parents and pretty much at the same time, his partner Donald, he began to really create what he calls 'a sense of belonging': something he compares to the building of an intimate relationship. His sculptures and assemblages are his 'children' and his House has been bequeathed to the National Trust and will live on as his personal legacy.
With a business background, Stephen is practical and commercial, as well as fanciful and creative. It is possible to visit House of Dreams by appointment, but it's necessary to book way in advance. Students and school children come in groups, individuals also come and are shown around by Stephen. Visitors walk around with their mouths open in astonishment. It's too much to absorb at once, the incredible ceramic floors and walls made by Stephen in amazing clashing colours. It's like walking into a house of sunshine.
The house is a sanctuary for Wright who might fit the 'outsider art' box but is not an outsider artist himself. He is clearly fascinated with the world around him, folk art and folk traditions, particularly those of Haiti, India, Mexico (where he is sure he was once born in a former life). People knock on his door with offerings – when TheEye was visiting, a woman brought round a gift of her collection of old sunglasses which were immediately given a place of honour by squeezing them next to something else. There were hair rollers still with the remains of hair in them ( TheEye wasn't too keen on this).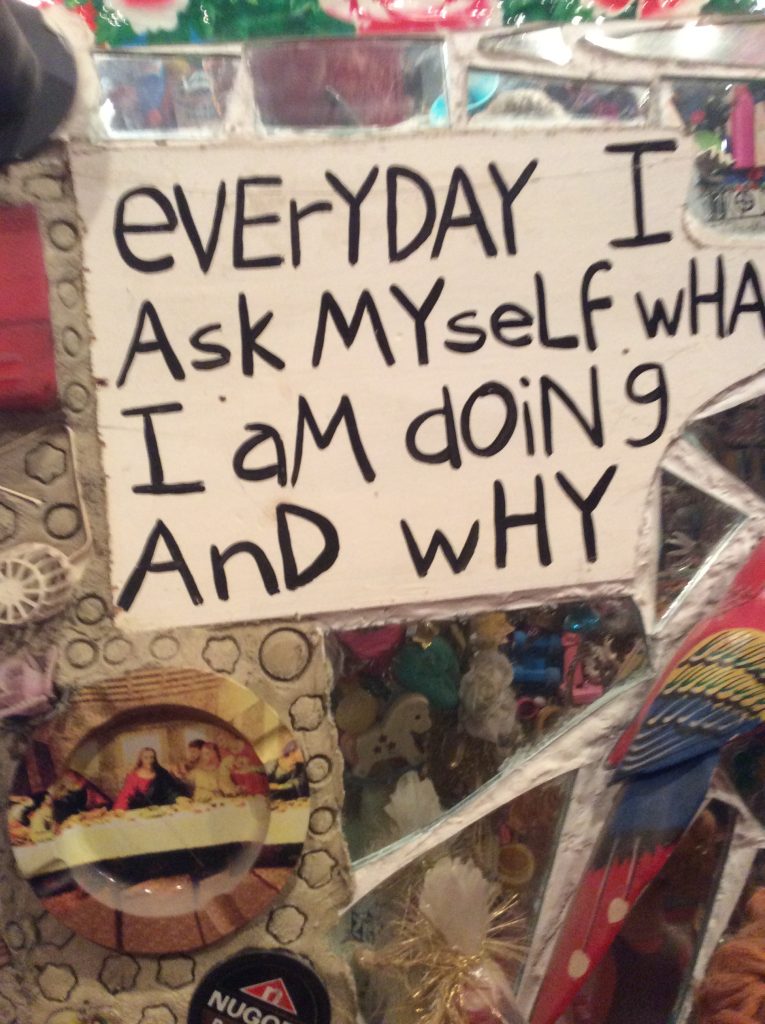 Every inch of space is filled with objects and memorabilia and hand-written memory boards. A diary of sentiments, outpourings of both happy and sad events.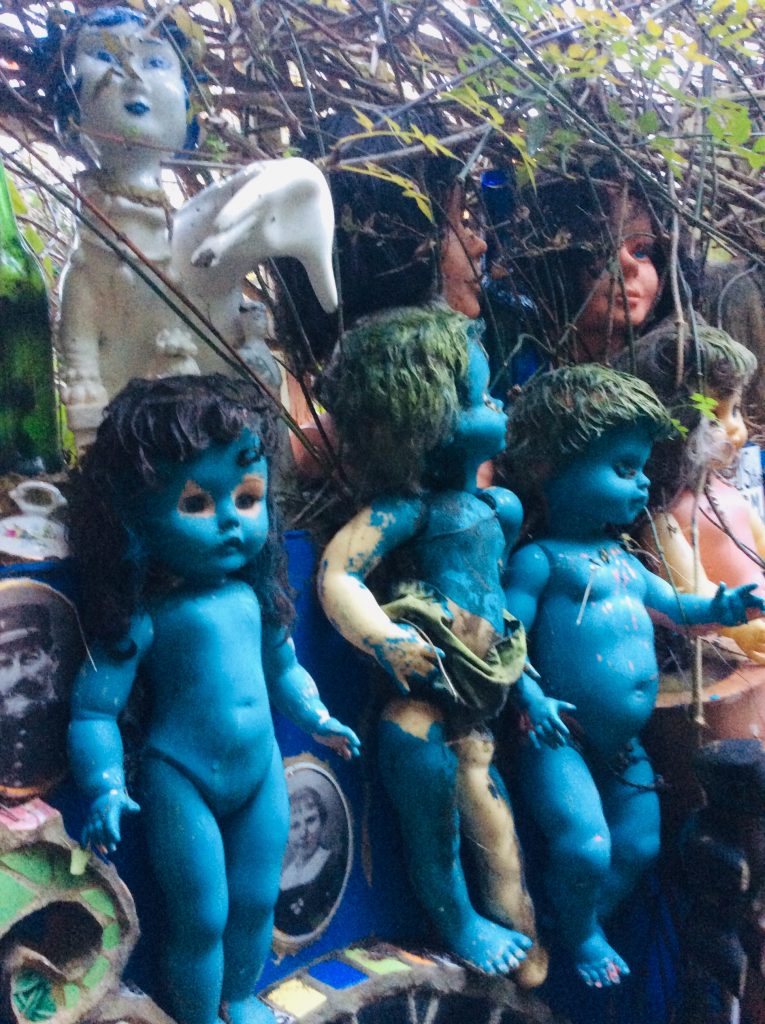 Posters, photographs and memorabilia from India are on the walls with dolls and texts. Visitors need to concentrate to see and make sense of what is there as it shouldn't be missed.
Then there is the garden which is a treat in itself. More wonderful tiles and more text and objects aplenty on floors, walls, etc.
Our official 'hour' was long past, but we were not asked to leave, although other visitors were expected. Stephen is a warm and gracious host and his explanation of  House of Dreams was fascinating and also genuine and fun. For those of a curious nature who enjoy the unexpected and unique, this is highly recommended. Book well ahead, as it is very popular and opening times are limited.
In his words 'I take the broken souls of yesteryear: the once-loved bric-a-brac of others and transform them into valuable gems. The process of collecting, rehoming and installing is most important' .
Wright rarely spends time in museums other than when he is working. To him, when it's done, it's done. But it remains a place that the other world can enter for a brief slice of respite.
Wright has noticed that people will often visit – or return- when something is missing in their lives: they are actively seeking out something more permanent, more meaningful, or perhaps even affirmation that they too can create something of great worth – of great meaning – from nothing'  (this is an extract from an interview by Kate Davey, Founder and Editor of Raw Vision Magazine).
House of Dreams is one of London's most incredible spaces. A life's project of very personal memories that has, through Stephen Wright's imaginative process, been given a life of its own to be shared and to inspire.