FESTIVE NEW YORK
DAY ONE: CULTURE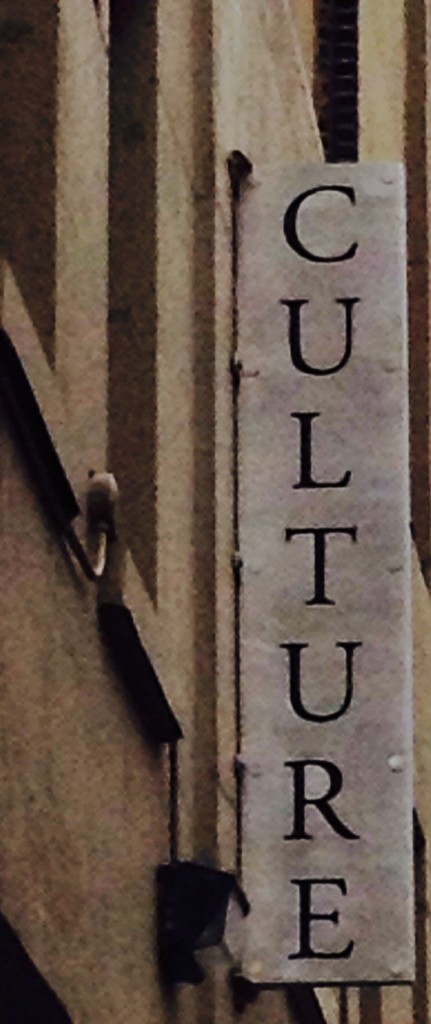 THE EYE starts the day with a brisk walk along the High Line, the historic freight line transformed into a public park with grasses, shrubs and trees and a marvellous panorama of New York. The grittiness of the New York skyline in a meadow is very uplifting and other people  – tourists, families out for a stroll, runners and joggers clearly feel the same way.  Everyone looks happy.  No loud music or mess.
I get off at 23rd Street and make my way to a new design gallery, Chamber, exhibiting a collection of limited edition work which will rotate over the next two years selected and curated by design duo Studio Job.
Then to Friedman Benda, an excellent well-established gallery for art and design that has exhibited people such as Ron Arad, Joris Laarman, Paul Cocksedge and numerous others.  High quality and very serious.
Next stop the Gagosian Gallery to see PICASSO & THE CAMERA curated by John Richardson.
Entering the large rectangular gallery was awesome but  quite intimidating to see a 'welcoming committee' of a dozen unsmiling and immobile black suited guards more suited to Homeland Security than an art gallery standing with their  backs against  the walls. The exhibition, however, is extraordinary and probably could  only have been conceived by Richardson with his unique first hand encyclopaedic knowledge of Picasso – man, life, work, family, friends……all so quirkily  recorded in the photographs (for the most part 'snaps') that clearly fascinated and inspired him throughout his life. The connexions (whether small details, images of works in progress, or broad concepts) between the photographs and the works on show – sometimes subtle, sometimes blindingly obvious – made me feel like a participant in a treasure hunt. Picasso apparently used the photos and home movies as 'aides-memoire' to help him record the progress of his work and the various women in his life, his surroundings and not least – himself. Many were of his first wife, Olga Khokhalova, a famous Russian ballet dancer who injured herself just before their marriage and never danced again. She always travelled with her tutus and ballet slippers and there are  photos of her posing in full ballet stage gear. Very touching.
Sadly the high surveillance ambience spoilt THE EYE's experience.  Blank, expressionless  faces (more like masks)  silently observing  every move (no photography, no handbags). I am pretty sure if the great man himself (Pablo, not Larry) had walked in and seen visitors creeping round talking in timid hushed tones, he would have taken off his clothes, done a handstand and injected some energy into the place. As for the receptionists – no smile, no words of greeting and certainly no eye contact. Not totally true.  I did overhear a couple of them discussing an Italian restaurant they had been to the previous evening.
By contrast The Met was a welcome blast of fresh air.  Visitors actually enjoying themselves, (isn't that the point of art?)
A really coherent exhibition of Leonard Lauder's great cubist collection, gifted to the Metropolitan Museum, and the kind THE EYE enjoys –  coming out better  informed than when she went in.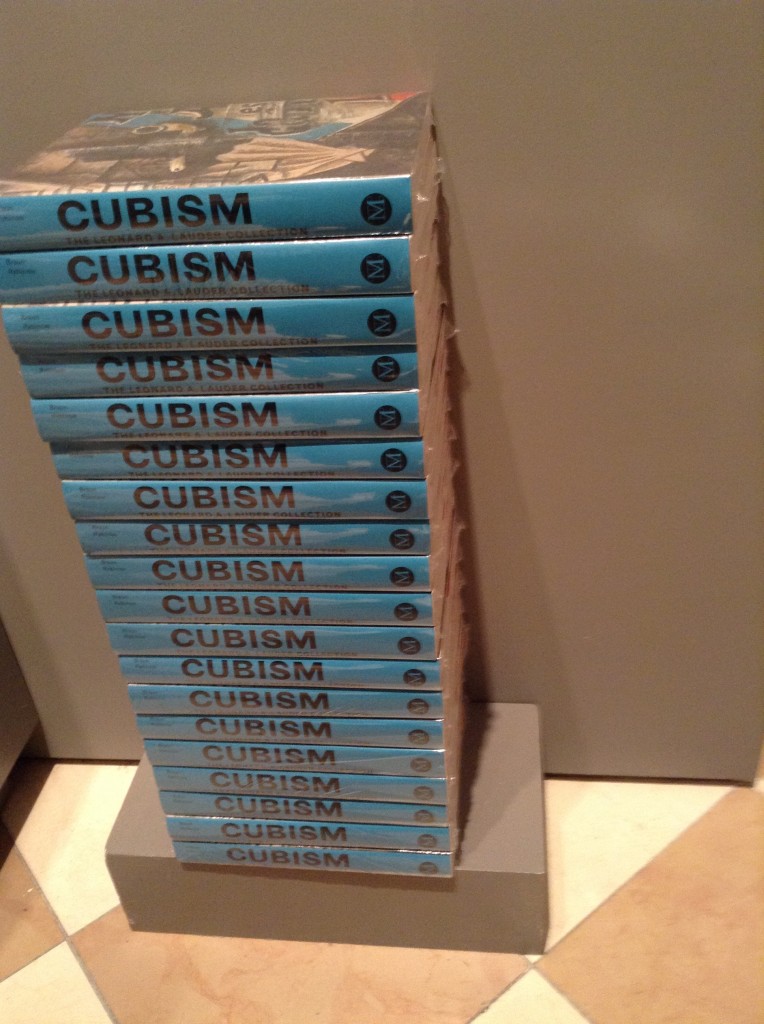 More wonderful Picassos, Legers, Braques and Juan Gris.  Not just wonderful – exceptional!   Major works by these artists, with insightful, clearly written wall texts.
For example in 1909 Picasso recalled 'almost every evening either I went to Braque's studio or he came to mine.  Each of us HAD to see what the other had done during the day'.   I doubt this is the style of artists today.  Also fascinating was the influence and involvement of the legendary dealer Kahnweiler who supported several of  them financially  (Juan Gris in particular)  allowing them freedom to work without financial worries.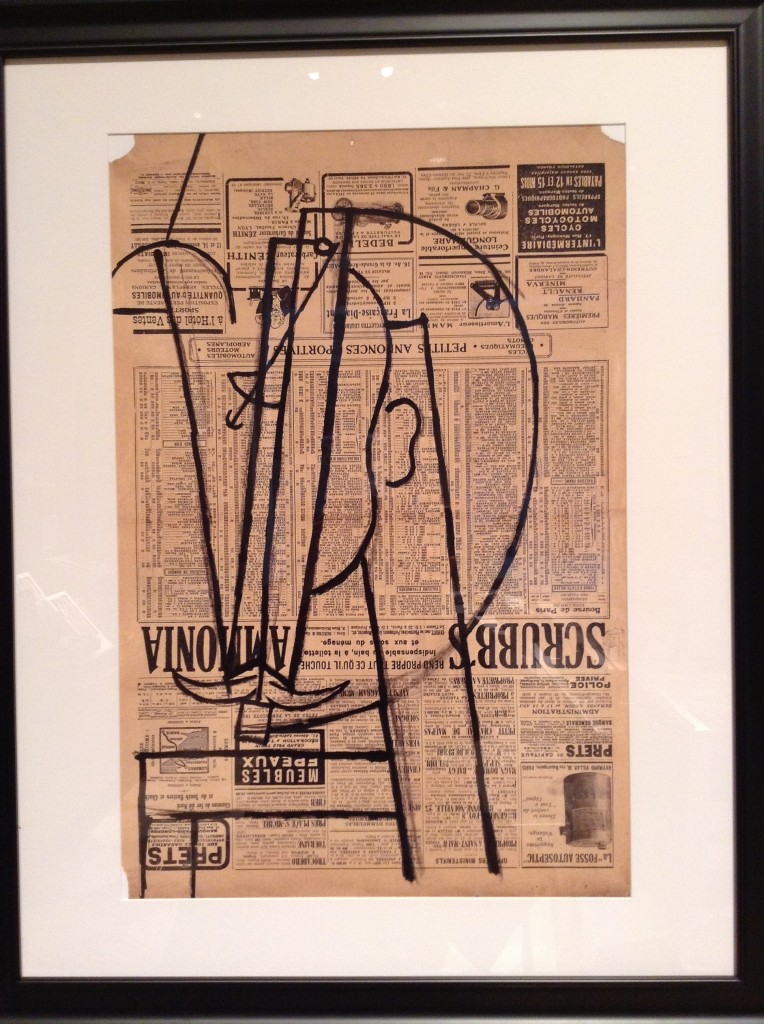 I could wander round the Met for hours but the section I  most love is The American Wing with the glorious Tiffany Fountain, a part donation by Lillian Nassau, a great character and the first dealer to discover Tiffany. I met Lillian many years ago and we became great friends. She enjoyed nothing better than a good gossip and 'dishing the dirt' particularly about anyone she considered a competitor. Shrewd and smart as a whip till she died well into her '90's.
I was thrilled to see America Today, a now permanent exhibition of murals painted in the 1930's by Thomas Hart Benton.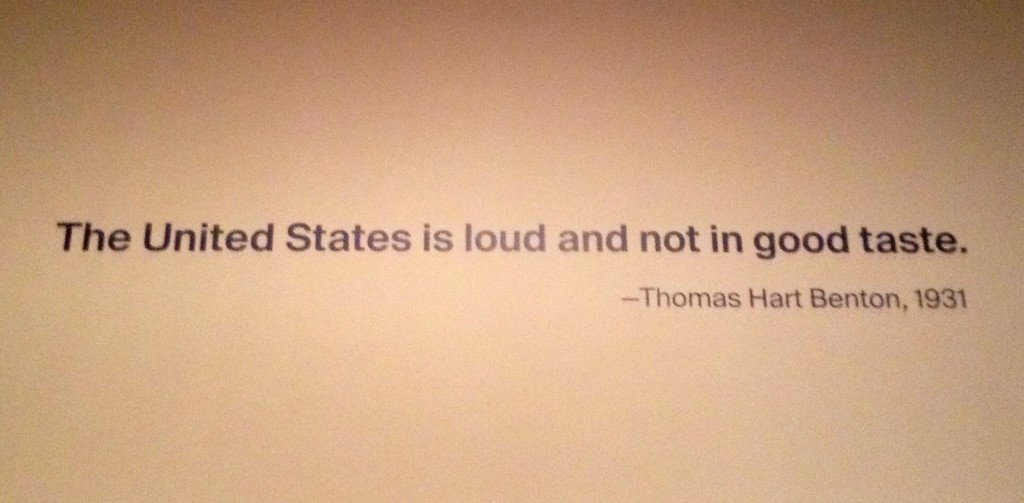 I think he is a combination of Norman Rockwell and Stanley Spencer.  Many disagree and find his painting style 'so-so' although appreciating his astute social commentary of the times. The loucheness, industry, financial insecurity. I really like his style – but, true of everything, it's all a matter of taste.
Sadly, THE EYE ran out of time, and out into the cold again.