Mexico didn't turn out quite as expected
TheEye is pinching herself. It doesn't seem possible – Was it only five weeks ago TheEye was packing her case about to leave for a holiday in Mexico? Her only care back in those heady, carefree days (yep, 5 weeks ago) was whether she might qualify for a BA upgrade and if she had packed the right clothes – too many, too few? Priorities have somewhat changed in these new, uncertain, freaky, times when the world is upside down and we can't predict what will happen tomorrow. But she hopes you will enjoy sharing some of her highlights of this vibrant exciting country.
MEXICO CITY
One of the many outstanding features of Mexico City is the number of museums, contemporary galleries and cultural centres. There is a flourishing film industry (the semi-biographical movie Roma, directed, produced and shot by Alfonso Cuaron was one of the hits of 2018 ) and music from jazz to mariachi. People are friendly and helpful. The markets are fantastic and the city seems incredibly clean and (apart from the shyster cab drivers), crime in the city is low.
Well, we wasted no time and hit the ground running on our first day at the National Anthropology Museum, an important 'brutalist palace' designed by Pedro Ramirez Vazquez, worth a visit alone for the stunning water feature, designed by Tomas and Jose Chavez Morado. The collection is phenomenal. The museum is huge and we spent all day there (getting lost at times).
Mexico City is sprawling (one of the biggest cities in the world) and the traffic is horrendous. It comprises of sixteen diverse neighbourhoods all with very individual personalities from the chaotic Centro Historico to leafy Condessa and Roma Norte (think Notting Hill or Hampstead). Polanco is posh uptown for high brand shopping and many galleries and museums.      The problem is it can take about 45 minutes to get from one to another, so you have to plan your days and think out your restaurant reservations very carefully, or you would be zig-zagging around town all day. Another word of caution-  'taxis' – avoid pink cabs (pink because the last mayor of the city was gay and changed them from green to pink). Pink taxis have a deservedly dreadful reputation. They speed up their meters so you end up with a crazy fare for a short journey. And don't even think about arguing. Oh, and, whilst we are talking caution, check your banknotes. Counterfeit currency is common practice but easily detected by the size of notes, poor printing. Well, it doesn't look right.
A friend got 'done' at a currency exchange at LAX and didn't notice until she was in the hotel only to be told 'it happens all the time'.
Luis Barragan:  Master of Modernism
'Serenity, silence, intimacy and amazement' are words Luis Barragan gave to describe the guiding principles of his work. Casa Pedregal (Prieto Lopez), his first house in Jardines del Pedregal was renovated in 2013 and is still a family home. Casa Gilardi was the last project Barragan oversaw in its entirety.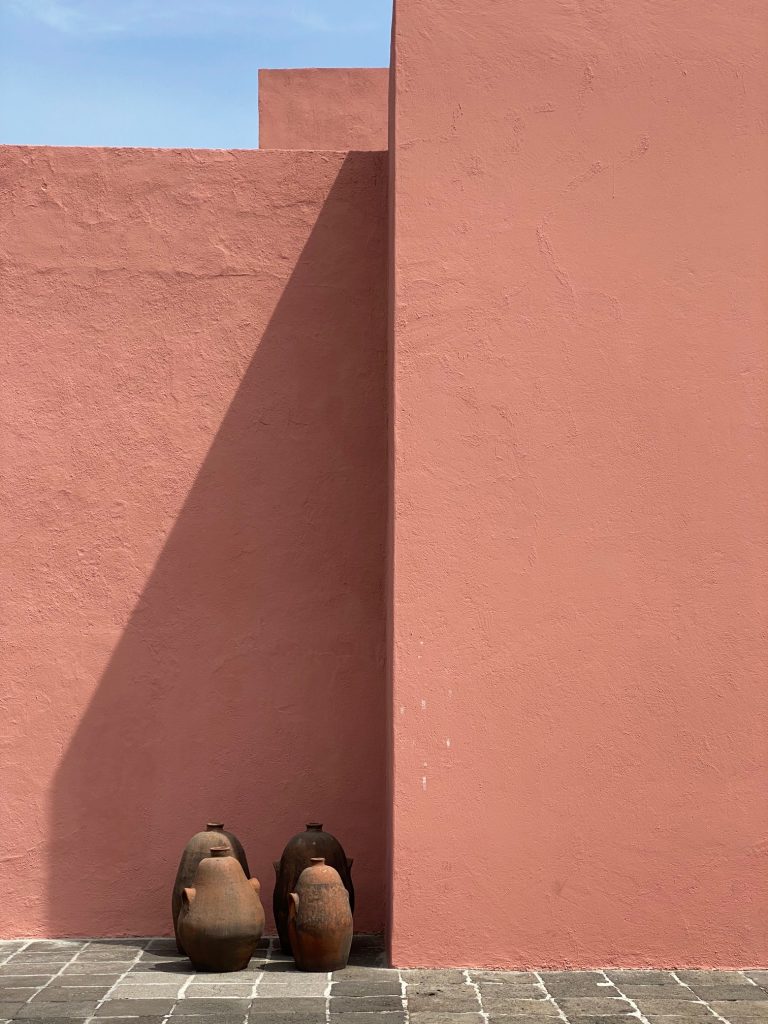 Casa Prieto Lopez in Pedregal
Frida Kahlo and Diego Rivera
What can you say that hasn't been said a million times about these artists and their exotic, bohemian lives?
Their pro-communist politics and friends (Frida had a long affair with Trotsky when he and his wife lived in their home in Mexico for many years).
Their presence is everywhere. Tourists from all over the world flock to their museums, studios, and the merchandise is endless. How on earth would the Mexican tourist industry flourish without them?
In the Sochi Milco district in the south of Mexico City is the sixteenth-century home of Dolores Olmedo, a fabulously wealthy woman who married well, widowed even better and was the mistress and muse of Diego Rivera. Dolores was 'quite a gal' – the glamorous, smart, savvy giver of lavish parties who took over her husband's business after his death and made it and herself even more successful. The house contains the largest collection of pictures by Kahlo and Rivera (and other fine work) which she left to the nation. A magnificent place.
Palace Of Fine Arts  (Palacio de Bellas Artes) & how we nearly didn't get there
Possibly the finest building in Mexico and outstanding by any standards.
Classic Art Nouveau combined with neo-classical styles on the outside, Art Deco on the inside. Crowned with a glittering orange-yellow tiled dome. Every detail perfect, but the piece de resistance is the Tiffany stained glass curtain that only appears briefly in the interval. This magnificent building houses a variety of shows from high culture to the popular Mexican folk dancing evenings twice a week.
TheEye desperately wanted to see the Tiffany curtain expecting to leave after a short dose of whirling and twirling Mexican kitsch. But we hadn't bargained for International Women's Day, which is taken very seriously in Mexico City. The police were out in force, bearing plastic shields. Shops, statues and fountains were boarded up but still heavily graffitied.
Allowing plenty of time for the journey in order to see the building and interior at our leisure, we found ourselves in gridlocked traffic barely moving and an aggressive angry crowd overspilling into the roads. Should we turn back – we asked each other and our nervous, but valiant, driver? We twisted and turned in and out of sidestreets, made U-Turns and hung on. Praying.
With about 5 seconds to spare, we made it and in our makeshift Spanish instructed the driver where to pick us up at the end.
I loved the whirling and the energy and the fantastic costumes.
Some of my small group did not. Too noisy, too many people taking photos (me!!), too this and too that, but TheEye was in the mood to be happy and nothing would stop her.
A great evening and back to the hotel (a clear run – no traffic at all) to be up early for our last day in M.C. and off to Puebla in the morning, famous for its Colonial architecture and Cathedral. We were going to see an awful lot of Cathedrals over the next couple of days.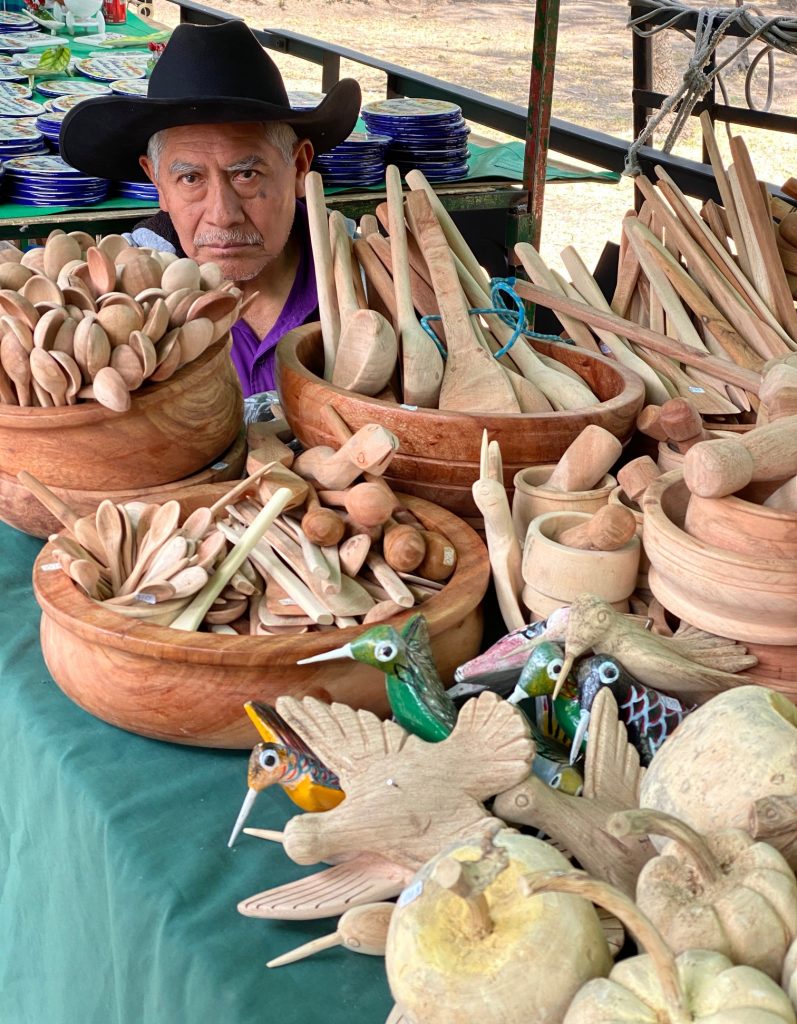 FOLLOW THEEYE TOMORROW AS SHE CONTINUES HER TRIP IN PUEBLA, CHOLULA AND SURROUNDING VILLAGES.