PUEBLA, CHOLULA, TONANTZINTLA, ECATEPEC
Puebla de Los Angeles is a world heritage city and a 'living museum' that encapsulates the essence of Mexico.
Located between the mythical Tenohitlan – today Mexico City – and Veracruz, Puebla has thrived for centuries. With its beautiful facades covered with tiles, its temples and convents, colonial architecture, impressive 'Zocalo' (main square), the former Archbishop's Palace and museums, Pueblo and its surrounding villages speak of splendour, wealth and legacy.
Puebla is famous for Talavera pottery, a traditional technique originating from Talavera de la Reina in Spain and has earned Puebla the name 'City of Tiles'. Puebla is the largest producer of this kind of ceramics in the world and the Talavera de la Reina gallery has a superb range of affordable work, as well as some fine limited edition and unique pieces by leading Mexican artists. TheEye bought modestly but really wanted one or two larger more sculptural objects. But it was not to be – too big, too heavy and too expensive. She loved the ceramic handbags. Sadly the call of more Churches was upon us and it was time to go.
CHOLULA
After the capture of the city of Cholula during the Spanish conquest, Hernán Cortes swore to build a Christian Church in place of every pagan temple. An ambitious project as there were about 600.      A boost for the construction business at the time and not so great for the slaves. Missionaries from Spain who came to convert the population understood they needed to adapt their methods to relate to the Mexican peasant culture.
Throughout the centuries wealthy citizens and their 'local boy made good' reputations donated vast sums of money into what would be most visible, respected legacies and an ostentatious church ticked all the boxes.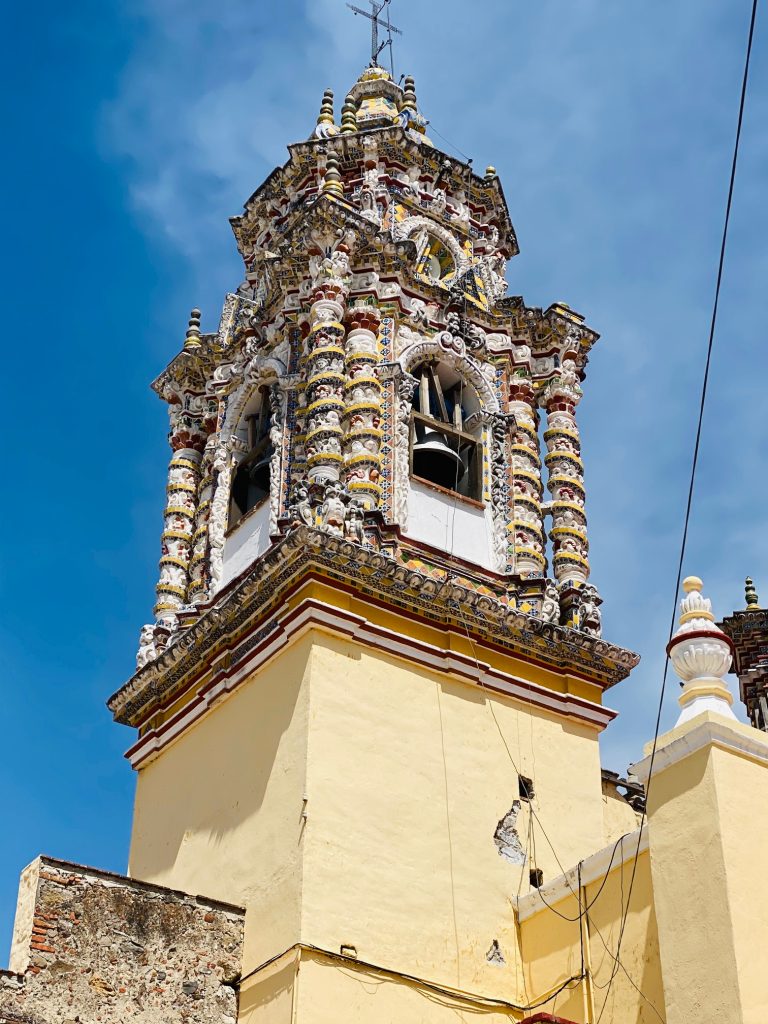 Inside the opulence of the Church decor (no taking pictures allowed) was bizarrely bling (some bearing more resemblance to Studio 54 than places of worship), no holding back on the detailed ornamentation –  gilding, gold leaf and beautiful local tiles, covering the ceilings and walls. Even the edifices of Jesus and the Virgin had a disco look. Mary wearing a blue sequined gown and a seductive half-smile. Jesus bearing a strong resemblance to David Bowie.
Meanwhile, the Popocatepetl Volcano which last erupted in 2004 and still blowing out smoke dominates the landscape.
FOOD
Puebla is one of the capitals of Mexican gastronomy – the infamous mole poblano – you love or you hate – is a spicy dark chocolate sauce served with different spices and herbs, with just about everything and considered one of Mexico's most classical dishes. Chiles en Nogada is another firey regional dish and a large variety of sweets.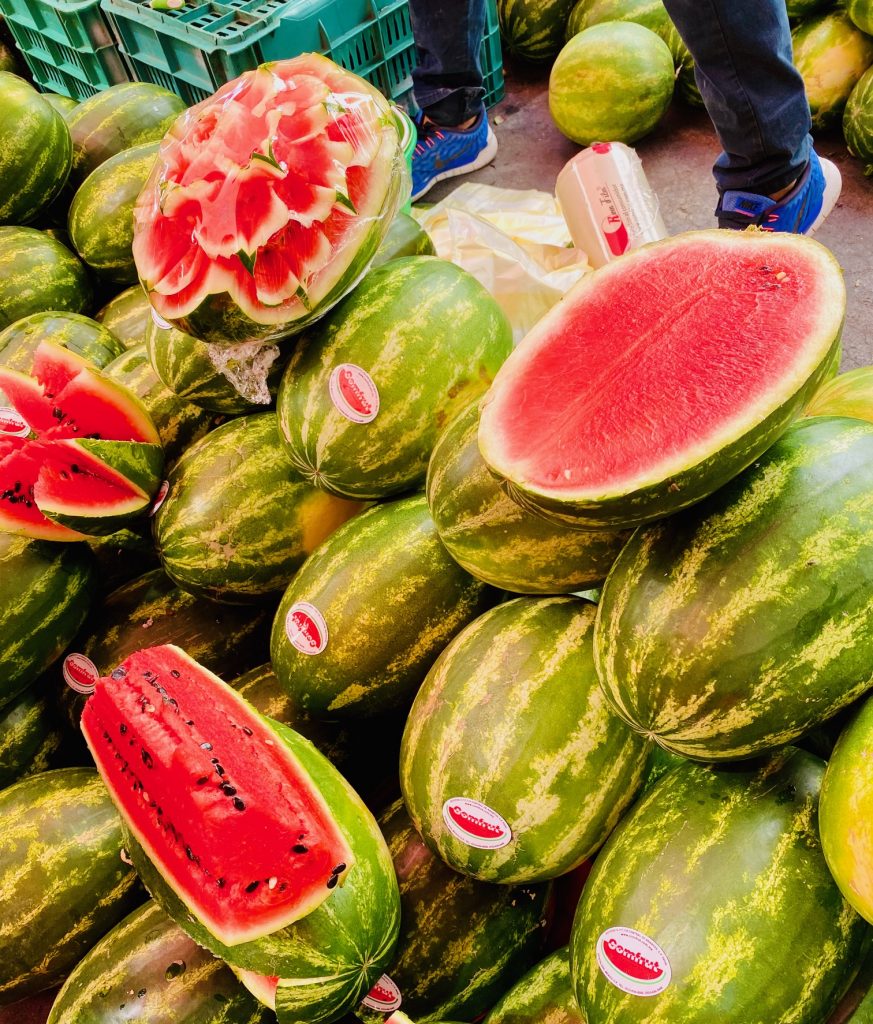 The markets are spotless and with a mind-boggling variety of fresh fruits and vegetables and, of course, everything is seasonal – when we were there it was watermelon season and also mangoes which have a sweetness and intensity of flavour to blow your brains as good as the famous Indian Alfonso's.
As with all the places we visited, TheEye would have liked more time to explore more of the off-the-beaten-track surrounding villages, away from tourists, but it was onwards to San Miguel de Allende. A drive of over seven hours. See you there tomorrow. Yawn Yawn!