Oaxaca was one of TheEye's favourite cities when she travelled around Mexico many years ago. She still remembers buying gardenias from a child for a few pence in the central square every day and putting them in her hotel bedroom. Oh, that wonderful perfume. Alas, Oaxaca has now become a much larger city with suburbs that seem to straddle for miles, gardenia sellers are few and far between and they certainly no longer cost a few pence. That's progress for you!
People still congregate in the central square strolling around or sitting in one of the many cafes drinking coffee or enjoying ice cream.
Craft and souvenir stalls surround the square, selling all the 'usual' merchandise: bags, scarves, wooden objects and 'Frida' memorabilia.
There are plenty of food stands emanating delicious aromas of grilled chicken and vegetables. TheEye had to make do with a cup of coffee – unfair – but who wants to risk Mexican tummy?
Oaxaca is famous for its crafts, that is what TheEye had come to see and there was no stopping her. First off the mark was an early visit to a women's weaving co-operative. Not wanting to waste precious time, it was a quick look round, a polite thank you and on to the next stop.
An embroidery co-operative was next on the list and well worth driving round and round in circles until we found the right door in a nondescript warehouse. The hand-made embroidery is done by local women on a piece-meal basis, they collect the work and take it home, in order to combine bringing up a family with earning a living. The brains behind it is a woman who also runs a homeopathic clinic on the premises. A seated crowd of patient patients waiting to be seen as TheEye was admiring shawls and dresses. The women who do the embroidery and make the garments are paid according to the time spent and the number of pieces they make.
Oh, my goodness, it was absolutely gorgeous. TheEye is a sucker for hand embroidery and was somewhat overwhelmed by the amount she saw and far too parsimonious in her purchases. Now kicking herself for not buying more.
Just looking at it makes her happy.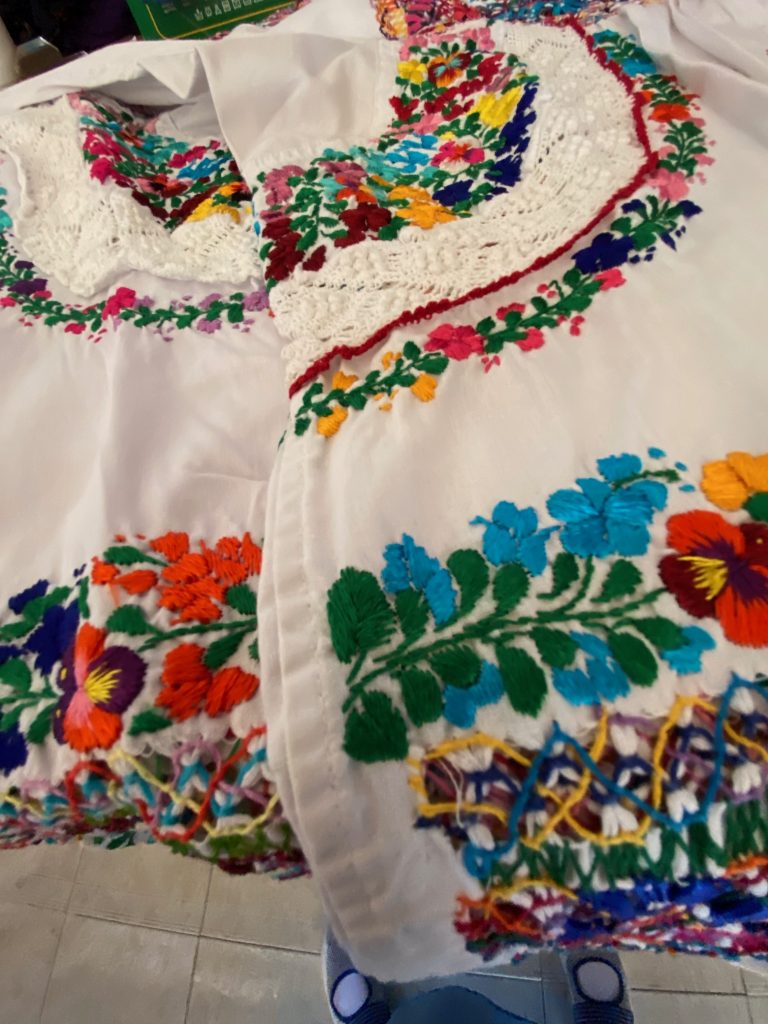 Next stop, a dyeing and weaving studio in Teotitlan del Valle, a small town specialising in weaving studios and workshops where only natural organic vegetable colours are used and we were shown how different colours and shades are made using fruits and herbs in order to get subtlety or intensity of colour. It was a fascinating process. The yarns produced were woven and made into scarves, shawls and cushion covers.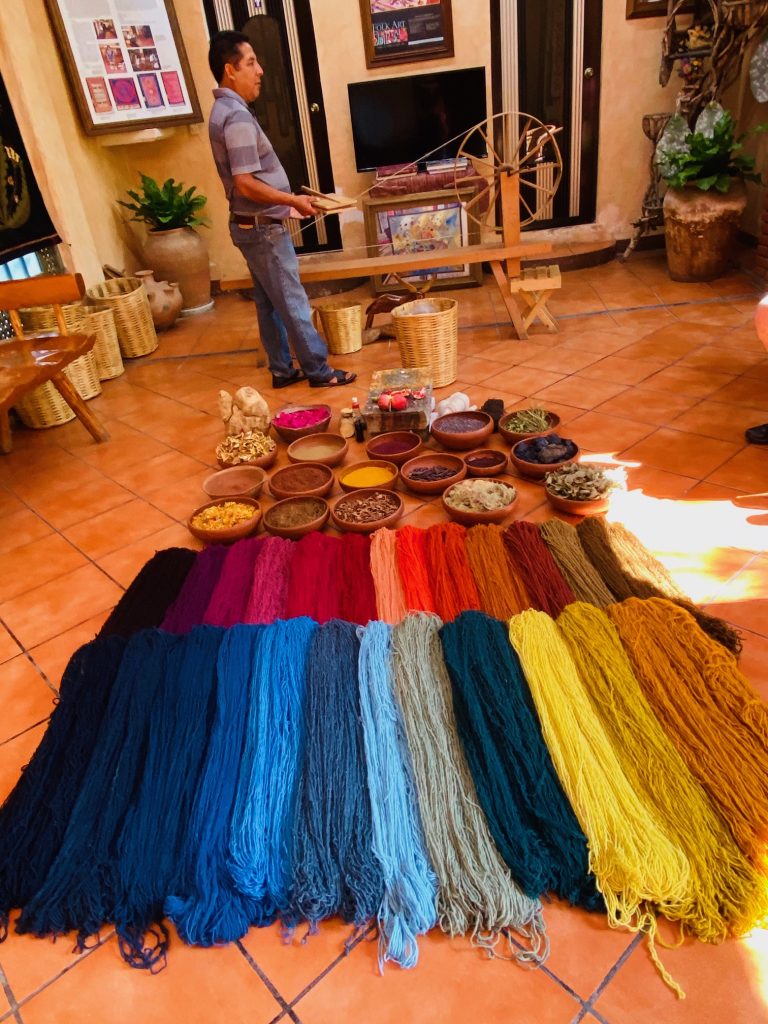 Black pottery is unique to San Bartolo Coyotepec, a small town about 20 km from Oaxaca. The pots are fired with a piece of clear quartz and then baked for only 8 rather than the usual 13 or 14 hours. We visited Dr Magdalena Pedro Martinez who, together with her husband and daughter, make unique pieces using this technique. Dr Martinez is also a practising doctor. The figures which are the subject of her workwear traditional Mexican costumes and headdresses and her intention is to protect these traditions from disappearing. Her work is in private collections and museums in both Mexico and the U.S. TheEye is in the process of attempting to commission something but there was poor communication (between their English and TheEye's non-existent Spanish) and the purchase seems unlikely to happen. TheEye loves her uniquely Mexican aesthetic.
Then it was time to hit Oaxaca's famous Sunday market in Tlacolula, which is a serious day for food shopping. And oh, the colours of the traditional garments the women were wearing which look the same, but there are apparently subtle differences depending on the villages the women come from.
Clearly turkey is a firm favourite and no doubt once the poor creatures are slaughtered they will be smothered in a mole sauce and enjoyed by many families for the Sunday feast.
CAFE CASA OAXACA 
One of the highlights of our days in Oaxaca was the most delicious breakfast we have ever had at the Cafe Casa Oaxaca, in an outlying residential corner of the city near to the Jardin Etnobotánico, which was sadly closed due to warnings about the virus (probably the first time we became aware of it in Mexico) and the imposing Santa Domingo Church and former monastery. The homemade tostados filled with cheese and beans were sublime and a variety of spicy seasonings. Still dreaming of them. It always irritates TheEye when everything from bread and beer to toothpaste is referred to as crafted, but this delicious food really is.
Well, sadly, that was the end to our few days in Oaxaca with another long (8 and a half hour) drive back to Mexico City for an extended 10 days (we thought). By then, Los Angeles was in total lockdown and not possible to go there as there was little hope of a plane to London. But fate wasn't letting us get away with things so easily and after only one night, Mexico City was fast closing down in the hope of stalling the virus early when other countries had left things too late. With its vast population, the epidemic would spread at alarming speed. By the morning of our first day back in the city, we found all museums had closed, as well as shops and restaurants and our large hotel only had 12 guests.
Time to bolt. Leaving was the only option and, fortunately, we were able to get seats on a direct flight to London along with our friends from San Miguel.
What a fantastic vibrant country Mexico is and the perfect place to have visited before being locked down for a long time. How lucky we were to have so many precious memories to carry us through these bleak times ahead.
TheEye is taking a short break before inviting you to join her on trips and adventures from years gone by.
More happy memories to look forward to.
Au revoir, TheEye.
Apologies to Tom Lighton for the incorrect spelling of his name on San Miguel captions. These have now been edited accordingly.