It will always be Bombay for me, says TheEye
Why did TheEye return to a country she vowed never to set foot in again? Quite simple.
In 1985, a friend suggested she read 'India In Luxury' by Louise Nicholson. She found it fascinating and read it from cover to cover. Best of all it inspired her to look at India in a different light. Thanks to Louise and her brilliant travel agent, Reet Hazarika, we did indeed fall in love with this complicated, extraordinary, mysterious, country and have returned again and again (over 20 times and still counting). On many occasions with good friends, R. and T.
Travelling in India could be a challenge to any friendship. It could all go horribly wrong and never want to see your friends again. Cooped up together in cars for journeys of sometimes 8 or 9 hours. We snoozed, listened to music, munched on snacks, tried to ignore my husband's annoying questions to the guide about the population in places we were about to visit, and even more irritating questions about crops he saw growing in the fields which we had no interest in (fenugreek anyone?). And miraculously the friendship didn't suffer.
We watched as the countryside gently rolled past like a panoramic film. Rural villages, bustling markets, women road workers heaving heavy bricks managing to look elegant with gleaming shiny hair, incredibly white teeth, bangles on their arms and saris in a kaleidoscope of vibrant colours. Orange, pink, blue and green. A feast for our eyes. My friend, T (a well-known designer of fabrics and textiles) and I would play a game imagining the women consulting each morning on their colour scheme for the day. Believe that and you will believe anything. It's called natural style. Something money can't buy. You either do or you don't have it.
Children on their way to school emerging from their ramshackle homes wearing spotless, immaculate, 'Persil white' shirts, the boys with slicked-back hair and girls with neat braids and ribbons. Probably having to walk several miles there and back. Smiles on their faces. Unlike the kids I would encounter slouching to school, drinking fizzy drinks and eating junk food at 8 a.m.
I know, I know, it's been called Mumbai for years, but for TheEye it will always be Bombay. Most of TheEye's friends, born and bred in the city, haven't caved in either and doesn't Bombay sound so much nicer? In common with New York, you either love or hate this crazy city. Frenetic, noisy, terrible traffic. All true. You can sit gridlocked for ages, with beggars carrying young children and babies tapping at the car window and at your heartstrings. But beware, if you roll down the windows to give money to one, you will find, as if by magic, out of nowhere, 15 strong determined arms thrusting through the window clutching infants, often 'lent' to them for a cut in the takings. This isn't 'hard-hearted Hannah' speaking, it's a fact. This doesn't make the situation any more palatable but most Indians either ignore it or simply regard it as a fact of life. Like swatting flies. Doesn't make it more acceptable or help your conscience. The treatment of women in India is still unacceptable.
But how could TheEye not feel a flutter in her heart at the sight of the Gateway to India greeting travellers? In the same way as The Statue of Liberty? Early in the morning from her bedroom window at the Taj Hotel, she would watch people taking their early perambulation, jogging or congregating to chat and gossip with crows swooping overhead. Until a few years ago there were horse-drawn carriages with ornate metal and wooden buggies. Delightful, but they suddenly vanished when a visitor gashed her arm on the metal and had to be taken to hospital. Too dangerous it was deemed.
The Taj Hotel is a landmark – imposing, imperious and grand with the most fantastic swimming pool, a luxury beyond belief on a hot, humid day.
The terrible events a few years ago, when terrorists landed in boats and took over the hotel, killing and taking guests and staff hostage, seemed to mark the end of an era for the hotel. There were so many fatalities including the wife of the manager. Now, cars are checked, entrances are closed and there is still a nervousness.
But some things in Bombay will never change.
True, there are fewer tuk-tuks (motorbike rickshaws), but plenty of taxis, the drivers fiddling their meters to jack up the fares. Tiffin 'boys' who cycle lunches in tiffin boxes to office workers, sugar cane vendors, food stalls and street life. Walk along the seafront and pass by children with balloons, and kites and people out for a stroll to enjoy the sea breeze. Temples silhouetted in the background.
The Victorian buildings are magnificent (the railway station is a masterpiece) and even more spectacular, the Art Deco buildings are ranked as some of the best examples in the world.
The jewel in the Art Deco crown must be the Regal Cinema built in 1933 and the first air-conditioned theatre in India, located in Colaba Causeway. It struggles to keep afloat. Hopefully, it will, and certainly, some of the immensely wealthy Bollywood stars should dig deep into their deep pockets to ensure it does.
TheEye has visited Bombay many times and on each occasion discovered somewhere or something wonderful and new – hidden treasures waiting to be unlocked. The newly renovated opera house, a gem inside and out, the Portuguese fishing village tucked away in a pocket-handkerchief corner in the heart of the city where we visited dress designer James Ferreira in his family home stuffed with eccentric memorabilia.
The Khadi shop, a time warp with its drab, unstylish interior, totally out of sync with the new aspirational fast track India.
Paying is slow and exasperating involving many 'stages'.
Dhobi Ghat Laundry, the city's biggest human-powered washing machine which services all hotels, restaurants and individuals as well. Scrubbing by hand is quite an experience, but don't think you can wander around snapping at will. You will be charged for the privilege. And remember, everything in India is negotiable.
Bombay is shopping heaven and I don't mean tacky souvenirs of the 'My parents went to India and all they brought back was a lousy Tee Shirt' variety.
Go to Chimenlal, a wonderful old fashioned stationery establishment where the savvy local shop and the staff are grumpy and fairly unhelpful, but the merchandise is great. TheEye comes home with enough wrapping paper and gift bags, tags and other nonsense to last her a year.
Ribbons and glorious embroidered trimmings are found in one of the small, broom cupboard sized specialist shops in an alleyway where she never fails to get lost, in Crawford Market, and bangles and shopping bags (not a million miles from the 'Balenciaga Shopper' which is somewhat more expensive).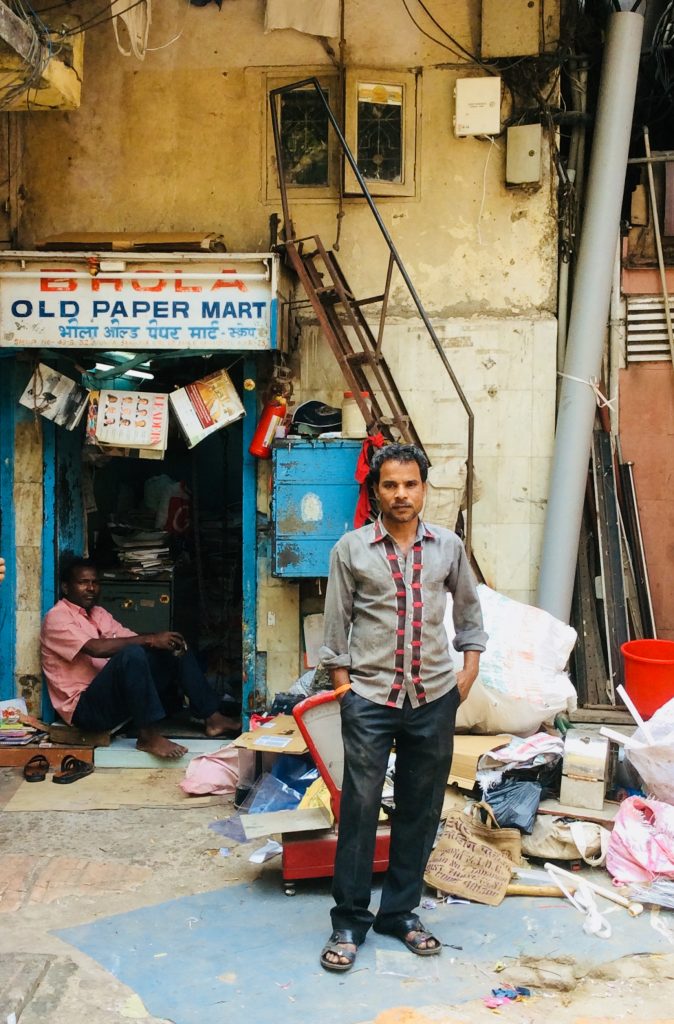 For a treasure seeker (some less charitable might say 'junk addict') such as myself, Chor Bazaar is paradise.
Open at the weekend, TheEye went with her great friend, Maithili Ahluwalia, owner of the city's most stylish lifestyle store Bungalow 8 which she closed down after 20 years a year ago. I was in mourning and still love everything I bought there. But maybe, given the awful situation everywhere and not least in India, she was fortunate to get out when she did, because there is hardly any life at the moment, let alone 'lifestyle'. If only?
Maithili is a real pro when it comes to spotting great vintage, whether it be a 1920s chair or rug, or a '50s desk and lamp. Much from private residences, old cinemas and hotels. She zeros in and knows all the dealers with whom she is able to haggle until they almost break down in tears of exhaustion and give in. I had to put my foot down when Maithili started climbing the rickety stairs of what was clearly a condemned building to see 'the best textile dealer in the market'. I was eagerly clambering behind when she said 'you don't mind rats do you?' What do you think? I beat a very hasty retreat and left her to it, and probably missed some incredible old shawls.
Hey ho…you win, you lose, but rats…no way.
Sabyasachi Mukherjee's wedding shop, near the old synagogue, is a treat. Sabya's incredible fabrics and designs are works of art. Bridal and trousseau wear for men and women and their entourages. Mouthwatering. Mothers and daughters trying on these incredible garments, some so heavy with embroidery you wonder how they will be able to even stand up in the heat. Some bring their own jewels and others buy from Sabya's treasure chest. And it's all paid for out of envelopes stuffed with cash. Indeed the life of wealthy Indians is another world.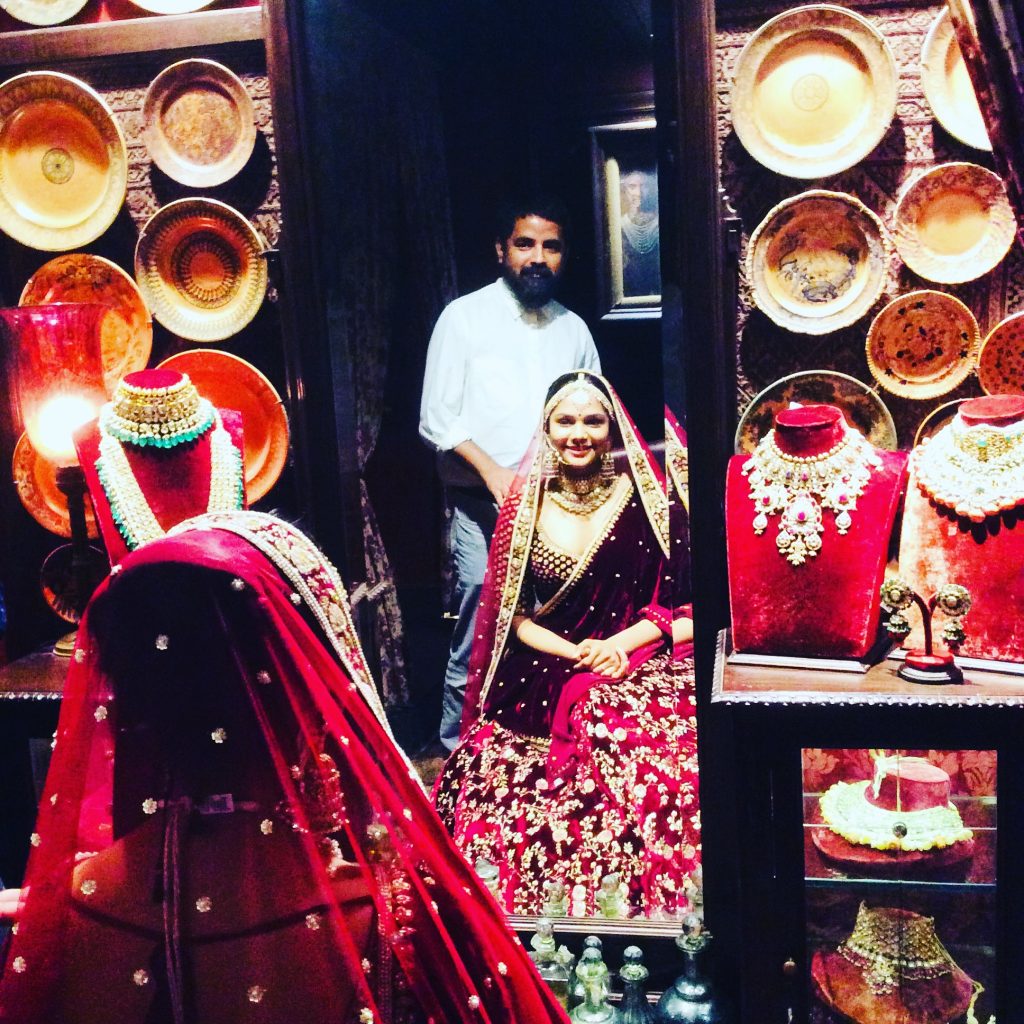 Sabyasachi and bride to be
And oh, how I will miss Bungalow 8. I love the clothes I bought there over several years and still wear them – clothes are memories. And they will always remind me of Maithili's store in the grounds of Bombay's famous cricket ground. 
I would never dream of going to Bombay without having dinner at Trishna. The family-run restaurant is popular with locals and tourists. Nothing fancy, but the fish preparations are out of this world and I am not the biggest fish lover. Trishna's many ways with crab, spicy fried octopus, and shrimp, spinach and paneer curry have me craving with greedy desire.
The Bombay Canteen (they certainly aren't calling it the Mumbai Canteen) is located in the old cotton mill area of the city, now a cool area where film and graphic design studios are located. It serves great unusual food, fantastic cocktails and has superb, helpful waiters. But if you are thinking of driving from the centre of town for dinner allow plenty of time and do look out for the monstrous 20-story 'Ambani home'.
I wish I could stay longer with you in the city I love, but it's time to pack my virtual bags and head for the virtual airport without worrying about being late and stuck in traffic.
I will next see you in Calcutta, Pondicherry and Madras (all have different names now, of course). Looking forward to the next stage of our journey and hope you are too?
Be adventurous even in lockdown with TheEye x